Cocktail Bar Tools and Gift Sets For Mixologist Starters or Professionals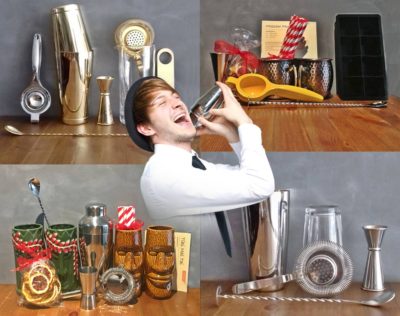 Pro Bar Set Tools and Gift Sets To Start Your Cocktail Journey
Fascinated by the art of the cocktail? Perhaps you're starting out in the world of professional mixology or simply want to explore cocktail-making at home? Then you will definitely need a bar set of quality mixing tools to begin honing your skills and advancing your knowledge. The good news is that you can choose from a range of cocktail making essentials, from starter kits and mid-size bar equipment to a full arsenal of pro mixology implements! And there's also a choice of stylish cocktail gift sets – to treat yourself or someone special!
Picking an exciting mix of spirits, juices and ingredients to conjure up wow-factor recipes is one thing. But can you bring your ideas to pulsating liquid life on the bar right in front of you? That's why you simply must have the best tools with which to properly build your portfolio of cocktail creativity. With the right crafting tools at your fingertips you're ready to release your inner mixologist. You'll soon be mixing the perfect cocktails – and delighting the tastebuds of an awestruck audience, whether family and friends at home or customers at your bar venue.
From Basic Bar Tools Set to Ultimate Deluxe Bartender Set
So which cocktail bar tools should you definitely invest in from the get-go? There is probably no better way to
start your new career than with this Basic Bar Tools Set, produced in sturdy but handsome looking stainless steel. It has the primary tools you need to lay the enduring foundations of key cocktail skills, comprising the essential 2-part Boston Shaker, Calabrese Style Strainer, Japanese Style Jigger and Bar Spoon.
As confidence in your abilities grows you may fancy something a little more eye-catching. Add a dash of lustre to your bartop with Retro Deluxe Bar Set in copper or glinting gold, with extra tools including, professional speed openers and fruit squeezers.
If you're further on up the road in your mixology career, you will be keen to firm up your reputation for mixing a mean cool classic or uber chic, trending newbie! The Ultimate Deluxe Bartender Set is pure 8-piece, pro-mixing gold with a superior vintage, pedigree look. Shine up your cocktail credentials every time with a stunning range of quality mixing tools from an Art Deco Shaker and Bell Jigger to Deluxe Bar Strainer and Hobstar Libbey Old Fashioned Glass.
A Gift Set of Bar Tools to transform any bar top wherever located
You can even get to perfect your skills on an enduring cocktail favourite or two, which everyone can enjoy wherever your bar is located! The true taste of good old US Southern hospitality at the Kentucky Derby is magically transported to your bar with a Julep Cocktail Bar Set. Complete with Julep cup and Japanese style jiggers, bar spoons – and recipe guides.
Prepare to dazzle your cocktail loving comrades once more – with the able assistance of the Moscow Mule Gift Set. All the pro tools you need are ready and loaded to pack a traditional vodka, ginger beer and lime punch. Including, antique or copper plated Moscow Mule mugs, ideal also for 'Kremlin' flavoured chilled beer, iced tea or spirit mixes.
Island dreamers are always up for going 'totally tropical' with a Tiki Cocktail Bar Set. Among the 8 magic tools to instantly bring the exotic taste and touch of ancient Polynesian culture to any bar top include Easter Islander and Tiki Mug Lei, Art Deco shakers, Deluxe Hawthorne 2-Prong Strainers, garnishes, straws and much more.
Whether starting on your cocktail journey of discovery or simply looking to replace tired-looking bar equipment, the dedicated mixologist always needs to keep their bar top all singing and dancing with premium quality cocktail making tools.