E-Learning: Is It Worth It?
March 23, 2023

Posted by:

Costas Nicolaides

Category:

Blog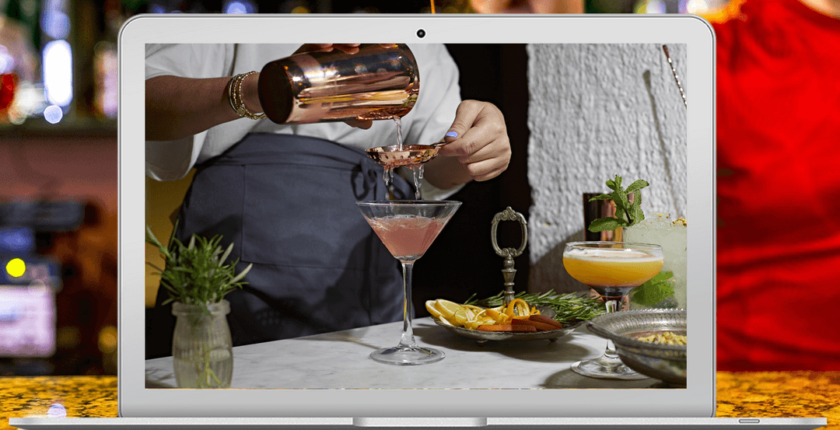 E-Learning or distance learning online is booming. Since the pandemic, the rise of e-learning courses has not stopped.
It's not only young students.
People of all ages are interested in finding out more about an interest or hobby, such as mixology. Or perhaps, want to develop and train for a new career as a cocktail bartender find e-learning is the ideal solution.
Let's find out why…
4 percent more people in the EU signed up for e-learning courses (Source: Eurostat data, 2021).
25 – 60 percent rise in knowledge retention by e-learning compared to 8-10 percent for face-to-face training. (Source: SH!FT survey).
If you want or need to upgrade your knowledge and/or skills in a specific interest or subject,
Compared to traditional learning methods, the advantages of e-learning are clear.
E-learning top benefits
Flexible and mobile for any kind of lifestyle – on the go or anywhere in the world. Take your e-learning courses with you anywhere, anytime, and on any device. All you need is an internet connection to fit e-learning into your own normal routines.
Highly affordable – pay for just a short course or a longer course. Save money also on commuting when you e-learn from home, or wherever you are working, relaxing, or taking time out.
Study at your own pace – go back to any part of the lesson and repeat as many times as you need. Traditional classroom courses can't cater to everyone's individual needs. An e-learning course allows you to choose what to learn, how to learn, and when to learn. Once you purchase your e-learning course online, it's yours to go back to at any time. You have the freedom to improve a weakness or enhance strength for as long as you need.
Easy accessibility – with a mobile, tablet, or laptop, you can download everything you need. Whether starting out or upgrading your knowledge and skills, it's so much easier and faster to progress towards your goals. Most eLearning or online training courses reduce the time it takes to complete by ONE THIRD compared to classroom-based teaching.
Personal discovery, skills for life
Above all…by studying online in your own time, and at your own pace:
You're more engaged in your personal journey of discovery.
You remember, and retain knowledge and skills your entire career/lifetime.
E-Learning courses for cocktails and bartending are affordable, easy, and accessible. Enroll NOW on an Alchemy Course of your choice.
E-learning mixology and bartending – all options to suit you!
Whatever your experience, skill set, budget, and personal goals, e-learning courses offer an extensive range of individual lessons to cater for everyone.
Learn the knowledge and skills of bartending in your own time.
Want to work abroad at a top London or New York hotel, restaurant or club? Or planning to work in the lively, Limassol bar scene or a big Cyprus hotel? The tourist season begins around April through to October.
Learn the knowledge and skills of bartending on an e-learning course. Gain your course completion certificate in only 4-5 weeks. In one month's time you can be trained and ready in all the professional bartending knowledge and hands-on skills you need to get started.
From bar set-up to learning and working with all types of wines, liqueurs and spirits. There's a total of 11 modules spread over 47 separate lessons!
3 big reasons why e-learning is worth it:
E-learn the lessons at your own pace, to fully understand every last detail.
Return time and time again until you've truly mastered your skills.
It's a solid grounding that will stay with you throughout your entire life.
Not only are you awarded a course completion certificate you will know exactly how to correctly prepare nearly 80 classic cocktail recipes.
Whether you're a cocktail lover who wants to develop your interest or started working at a local bar… the valuable groundwork in knowledge, skills, and techniques are your invaluable tools for life.
E-learning will kickstart your cocktail-mixing career! Jump up to the Professional Bartender Level 1 Course or take an Everyday Home Mixology Course