E-Learning: Why Bartending is a Passport to Your New Life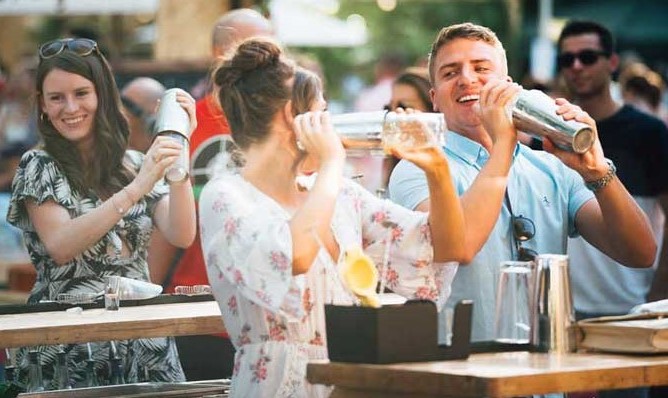 Bartending could be your passport to a new life. Not just in Cyprus – but anywhere in the world!
See yourself mixing top cocktail favourites, Dirty Martini in Australia or The Caesar in Canada? At a cool bar venue for cocktail lovers just like you?
Did you know…
More than 4,100 bartender jobs were available in Canada in 2022.
At the start of 2023…
Around 1200 Cocktail Bartender vacancies across Europe are advertised on one job site, alone.
Over 600 are within 10 miles of London.
And let's not forget there are more than 60 cruise lines, which are recognised by the Cruise Lines International Association as well as numerous smaller companies.
More than 320 cruise ships were in operation around the world in 2022.
Each with more than 20 bars and lounges onboard.
If you're looking for a career change to open up new horizons, enrolling on an online bar course could be the start you've been looking for.
Want to know more? Discover the "Top 10 Cocktails Every Bartender Needs to Know" on this affordable entry-level course.
Train to bartend in only 4  weeks
Perhaps, you're looking to stay closer to home? Working in the lively Limassol or greater Cyprus hotel or trendy bar scene. It will soon be the tourist season (around April to October), once again.
In only 4-5 weeks you could be trained a ready with comprehensive professional bartending knowledge and hands-on skills.
From bar set-up to learning and working with all types of wines, liqueurs and spirits. That's a total of 11 modules spread over 47 separate lessons!
Not only are you awarded a course completion certificate you will know exactly how to correctly prepare nearly 80 classic cocktail recipes.
Whether you're a cocktail lover who wants to develop your interest or started working at a local bar… the valuable groundwork in knowledge, skills and techniques are your invaluable tools to build an exciting new career.
Are you ready to kickstart your cocktail-mixing career? Click here to jump up to Professional Bartender Level 1

Get up to bartending specs with the latest hi-tech
The bartending and cocktail world never stands still. Cocktail classics get a modern makeover and molecular mixologists create out-of-this-world flavours and drink sensations.
The influence of technology continues to transform our expectations.
The number of bar gadgets continues to expand every day. Far beyond traditional jiggers, strainers, mixers and muddlers Today, most bars will have at least 3 or 4 or more hi-tech gadgets at the ready.
Have you heard about the Rotavapor, Homogenizer or Dehydrator? Have you tried your hand at using a culinary torch or a cocktail infuser? What happens when you try to make a liquid Nitro drink?
No bartender can afford not to know how to make it! When customers ask for the latest drink preparation or cocktail combination.
Over 13 modules and 35 lessons, you will learn all about 35 types of bar gadgets, with which to make 40 recipes. From the simplest gadgets, from making creative cocktail garnishes to creating cocktails bubbles with a Flavour Blaster.
It's not only professional bartenders who will want to keep up with the latest trends. Bar and restaurant owners need to keep a competitive edge too.
Switch on to the bar tech revolution that's changing the bar scene around the world.
Get the lowdown now on High Tech Bar Gadgets for Bartenders
Learn to mix your cocktail favourites at home – properly!
But what if you're a cocktail lover who simply wants to learn to mix a few favourite drinks for yourself, family and friends at home? Enrolling on an Everyday Home Mixology course is open to all with an interest in learning how to create your own glass of cocktail alchemy!
It's actually one of the biggest trends of recent years. Believed to have really started during the pandemic. Recent CGA global hospitality research found that more than two in five cocktail drinkers say they have taken up mixology at home.
Among the top cocktails being created at home during 2022 were Gin and tonics, Margaritas and Mojitos.
Discover your inner barista with 10 brewing methods
Cocktails are not the only beverage you can learn to create and serve to a knowledgeable, high-quality standard. There's a professional barista course you can enrol on immediately, too.
Whether you're an absolute beginner or a barista/bartender looking to upgrade their service offering.
Over 7 modules and 23 lessons, you will discover 10 brewing methods, such as global trending Chemex or Cold Drip. As well as perfecting the basic latte or classic espresso.
Alchemy Courses are affordable, easy and accessible, online. Enroll NOW on an Alchemy Course of your choice.